Women promoting China-Arab relations
21 September 2015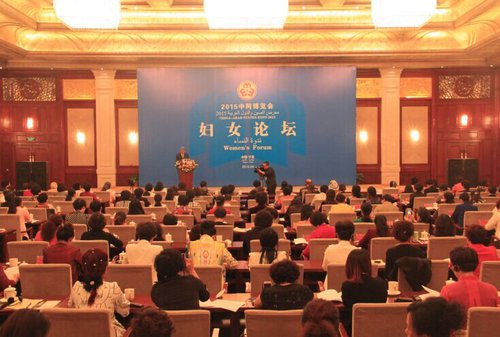 Yinchuan (Women of China) - On September 12, the Chinese city of Yinchuan hosted the first ever women's forum between China and countries in the Middle East with the aim of promoting bilateral economic exchanges and cooperation among Chinese and Arab women. Launched during the annual China-Arab States Expo held from September 10 to 12, the forum is part of platform to encourage and facilitate commercial and cultural ties between China and Arab countries.
The Forum's participants included seventeen women representatives from Bahrain, Egypt, Jordan, Kuwait, Sudan and Tunisia, as well as more than twenty Chinese provincial-level women's federations and women entrepreneurs. During the event, they exchanged ideas, shared and discussed best practices, and reached agreements on bilateral cooperation and development in the context of the "One Belt, One Road" development strategy launched by the Chinese government in 2013 and hailed as one of the grandest flagship projects of Beijing. The strategy refers to the "New Silk Road Economic Belt" which will link China with Europe through Central and Western Asia, and the "21st Century Maritime Silk Road", which will connect China with Southeast Asian countries, Africa and Europe. The initiatives carry forward the spirit of the ancient Silk Road, a historically important international trade route between China and the Mediterranean which was based on mutual trust, equality and mutual benefits, as well as inclusiveness and mutual learning.
More information available at Women of China.