Afghani refugee teacher wins UN award
17 September 2015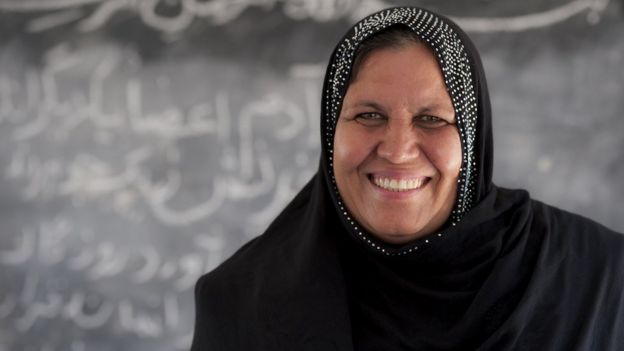 Geneva (UNHCR) - On 15 September, the United Nation's Refugee Agency (UNHCR) announced that Aqeela Asifi - an Afghan refugee teacher who has dedicated her life to bringing education to refugee girls in Pakistan - has been awarded the 2015 UNHCR Nansen Refugee Award.
A former teacher in Kabul, Asifi was forced to flee the city with her family in 1992, finding safety in the remote refugee settlement of Kot Chandana. Before her arrival at the settlement, strict cultural traditions kept most girls at home, leaving them with no access to schooling of any kind. Determined to give these girls a chance to learn, Asifi slowly but surely convinced the community of the importance of schooling for girls, and began teaching just a handful of pupils in a makeshift school tent. Today, over a thousand children are attending permanent schools in the village thanks to her early example.
Asifi believes that instilling a belief in the power of education for girls in this generation will transform the opportunities of the next. "When you have mothers who are educated, you will almost certainly have future generations who are educated," she said. "So if you educate girls, you educate generations. I wish for the day when people will remember Afghanistan, not for war, but for its standard of education."
UN High Commissioner for Refugees, António Guterres, paid tribute to Asifi's efforts and highlighted the important role education plays in transforming the future of Afghanistan: "Access to quality and safe education helps children grow into adults who go on to secure jobs, start businesses and help build their communities – and it makes them less vulnerable to exploitation and abuse. Investing in refugee education will allow children to play a part in breaking the cycle of instability and conflict. People like Aqeela Asifi understand that today's refugee children will determine the future of their countries, and the future of our world."
UNHCR's Nansen Refugee Award honours extraordinary service to the forcibly displaced, and names Eleanor Roosevelt, Graça Machel and Luciano Pavarotti among its laureates. The 2015 ceremony will be held on 5 October in Geneva, Switzerland.
More information availbe at UNHCR.
Photo credits: BBC